Remediation services
Complex land remediation projects involving multiple companies require simple, adaptable, and rapid purification solutions. Desotec's mobile filtration services are ideal for short and long-term use, purifying air emissions and polluted groundwater effectively and sustainably so your soil remediation project can proceed on track.
Remediating contaminated land: a major challenge
Worldwide, former industrial sites are being earmarked for new building projects. However, the legacy of industrial activity, such as oil spills, often means that the land requires remediation first.
Legislation is generally becoming stricter. In many countries, construction companies must now treat any components they find. This holds up complex building projects until a rapid remediation solution is installed.
Desotec has the answers, supplying contractors with mobile sustainable filtration solutions to treat air emissions or contaminated groundwater associated with soil remediation.
Most unwanted components at brownfield sites are organic, which are easily treated with Desotec activated carbon filtration. They include mineral oils, volatile organic compounds (VOCs), benzene, toluene, ethylbenzene, and xylene (BTEX), adsorbable organic halides (AOX), and persistent organic pollutants (POPs) such as per- and polyfluoroalkyl substances (PFAS).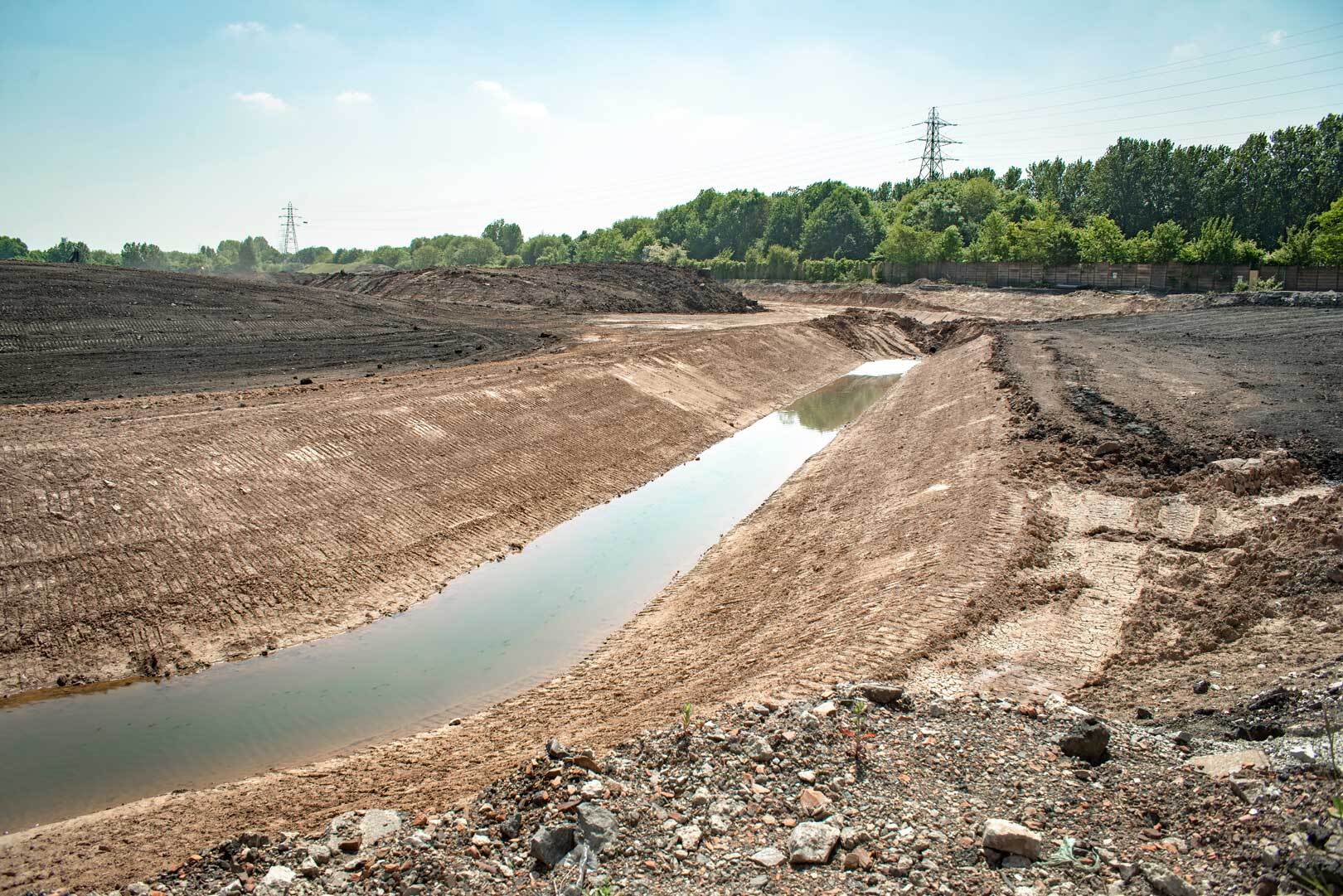 Purifying air emissions from land remediation
Desotec has a range of filters to handle the different flow rates and concentrations resulting from types of soil remediation processes. Where soil is excavated for ex-situ treatment, our filters may be installed at tents to treat emissions released by digging. They are a cost-effective way to handle large flow rates and are designed to allow for a low pressure drop, thus saving energy. A different filter model may be installed at the treatment facility itself to handle lower flow rates but far higher concentrations.
Vapour extraction processes may also take place in-situ, e.g., for contaminated land at a site still in use. The ground is treated thermally to turn the components into gases, producing very high concentrations which used to be hard to treat. Desotec rose to the challenge, developing its AIRCON HC-XL filter especially for this purpose.
Purifying the land and groundwater from past industrial activity is essential for creating a cleaner environment for future generations. Desotec is here to help, supplying sustainable mobile activated carbon filtration solutions which complement site remediation techniques.
Remediation of groundwater contamination for a cleaner environment
Where groundwater requires purification, pump-and-treat techniques are widely used. Groundwater is pumped to the surface, treated, then either injected back into the soil or discharged. Underground, components are contained hydraulically to preserve the surrounding land.
Desotec provides mobile water filters to treat the pumped-up polluted groundwater. They're capable of handling large flow rates and varying concentrations of components. Activated carbon adsorbs the contaminants, allowing for the safe return or disposal of the groundwater.